Well, well well. Look-y what we have here.....
Behind A Million And One Pages
has
100 FOLLOWERS!!!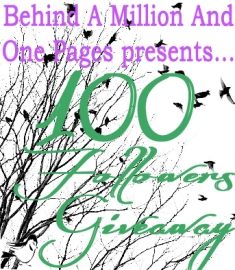 You can most likely all tell exactly what is going to happen right now....
Yes, that's right.
A GIVEAWAY!!!!
Tehehe I'm so excited :)
OK, So basically
what's up for grabs is:
ONE winner will recieve...
ONE PAPERBACK
copy of Juliet Marillier's Wildwood Dancing
At the Other End:
High in the Transylvanian woods, at the castle Piscul Draculi, live five daughters and their doting father. It's an idyllic life for Jena, the second eldest, who spends her time exploring the mysterious forest with her constant companion, a most unusual frog. But best by far is the castle's hidden portal, known only to the sisters. Every Full Moon, they alone can pass through it into the enchanted world of the Other Kingdom. There they dance through the night with the fey creatures of this magical realm.

But their peace is shattered when Father falls ill and must go to the southern parts to recover, for that is when cousin Cezar arrives. Though he's there to help the girls survive the brutal winter, Jena suspects he has darker motives in store. Meanwhile, Jena's sister has fallen in love with a dangerous creature of the Other Kingdom--an impossible union it's up to Jena to stop.

When Cezar's grip of power begins to tighten, at stake is everything Jena loves: her home, her family, and the Other Kingdom she has come to cherish. To save her world, Jena will be tested in ways she can't imagine--tests of trust, strength, and true love.
SIGNED POSTCARDS
of The Earth Painter by Melissa Turner Lee
ONE KINDLE EDITION
of The Earth Painter by Melissa Turner Lee
At the Other End
:
The Sculptor was alone. The world was gray, as it always had been.
And then the Sculptor said, "It is time…
Time for color,
Time for more,
The beginning."
With a word, three sculptures became aware. And they needed to paint.
There was Ocean, Sky, Land, and Life all painted into place.
Then it ended, just as quickly as it started. Then the painters were no longer needed.
But they were still…AWARE.
And it was in this awareness that the battle began. And continues.
When a self-conscious young woman discovers the boy in drama class is actually the immortal who painted the world into being, she becomes the target of another painter who could shatter not only her new sense of hope, but her world, as well.
ONE ePUB EDITION
of Beautifully Broken by Sherry Soule
At the Other End:
Thirteenth daughter. Heritage witch. Demon slayer.
They say every town has its secrets, but that doesn't even begin to describe Whispering Pines. The townsfolk are a superstitious lot and the mystical disappearance of a local teen has everyone murmuring about a centuries old witch's curse.
When sixteen-year-old Shiloh Ravenwolf takes a summer job at Ravenhurst Manor, she discovers a ghost with an agenda. That's where she meets the new town hottie, Trent Donovan. But Trent may be the next victim on the supernatural hit list, and Shiloh is the only person with the power to save him. Complicated much?
After receiving cryptic messages from a creepy wraith and frightening threats from a demon, Shiloh finally begins to understand the mysterious significance of the strange mark branded on her wrist. Now Shiloh must decide how much she's willing to sacrifice to protect the other teenagers in town.
Unfortunately, for Shiloh, not all ghosts want help crossing over. Some want vengeance.
ONE ePUB EDITION
of Colors Like Memories by Meradeth Houston
At the Other End:
Julia has a secret: she killed the guy she loved. It was an accident—sort of.

Julia is a Sary, the soul of a child who died before taking her first breath. Without this 'breath of life' she and others like her must help those on the verge of suicide. It's a job Julia used to enjoy, until the accident that claimed her boyfriend's life—an accident she knows was her fault. If living with the guilt weren't enough, she's now assigned to help a girl dealing with the loss of her mother, something Julia's not exactly the best role model for. If she can't figure out a way to help her, Julia's going to lose her position in the Sary, something she swore to her boyfriend would never happen.
So, now a few little rules... not really rules but
handy need to know information:
~ 100 Followers Giveaway is INTERNATIONAL
~ Giveaway

ENDS

on 6 AUGUST 2012
~ Quick tip

BEFORE YOU START

the giveaway... It's MANDATORY to be a GFC FOLLOWER, so you might want to do it before you log in to the giveaway so it's done.
~

ONE

entry per person
~ If NOT 18+ just a quick PARENT CONSENT..... I don't think they'd be too happy with some random unknown parcel coming in the mail from Australia :/
~ If winner does NOT respond within 2 DAYS I will be choosing ANOTHER WINNER..... sorry, but it's not really fair if I leave it so be mindful of your emails.
~ You will
NEED
to have an
AMAZON
account, as
THE EARTH PAINTER
will be sent as a
GIFT FROM MELISSA.
and

MOST IMPORTANTLY

, I'd love to thank three (3) amazing authors,
MELISSA TURNER LEE
, SHERRY SOULE and MERADETH HOUSTON for all contributing to the giveaway. I appreciate it all so much, thank you! xo
SO now onto the giveaway, I've kept you all long enough:
a Rafflecopter giveaway