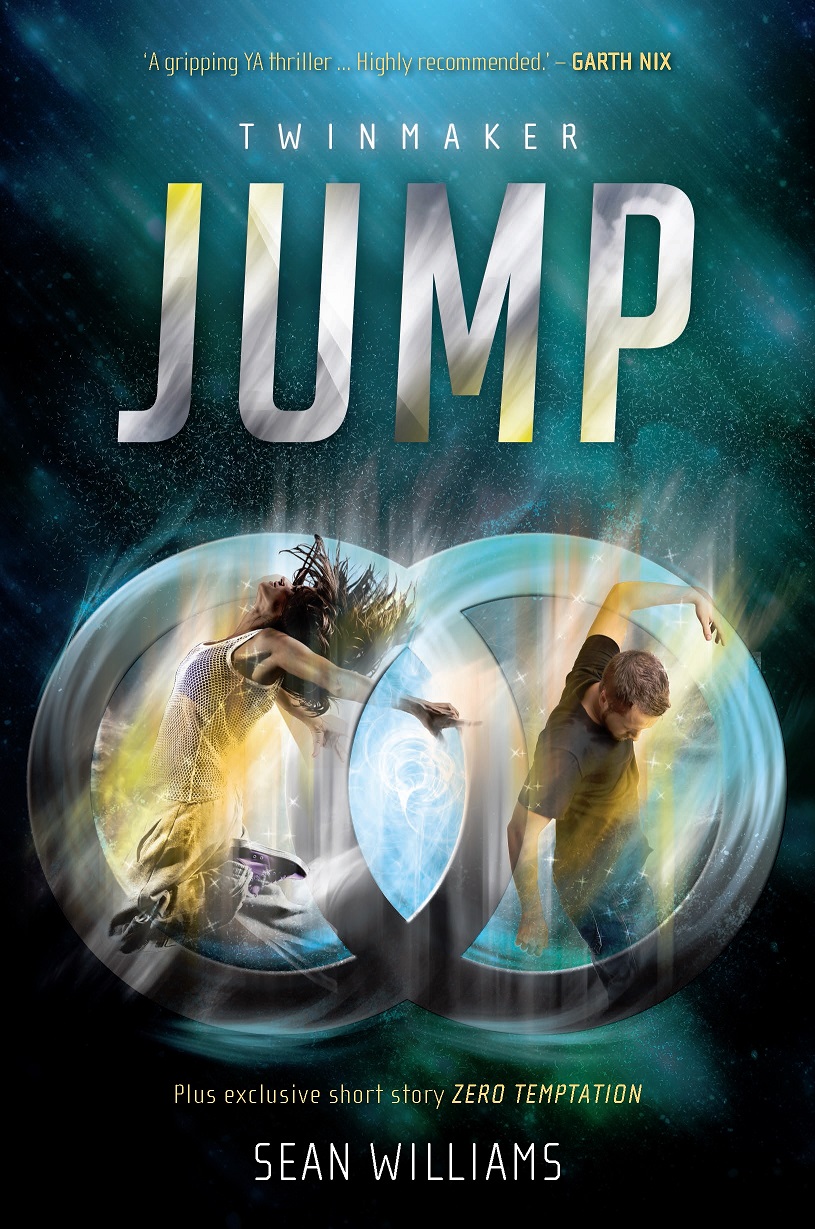 At the Other End:
If you could be anywhere in a moment, where would you go? If you could change your appearance in a minute, what would you choose? If you discovered something was very wrong with this perfect world, what would you do? Action and danger fuel this near-future thriller in a fresh take on technology, identity, and the lengths one girl will go to save her best friend.
Clair lives in a world revolutionised by d-mat, a global teleport system that allows people to transport themselves instantaneously around the world. When a coded note promises Improvement - the chance to change your body any way you want, making it stronger, taller, more beautiful - Clair thinks it's too good to be true, but her best friend, Libby, is determined to give it a try.
What starts as Libby's dream turns into Clair's nightmare when Libby falls foul of a deadly trap. With the help of Jesse, the school freak, and a mysterious online friend called Q, Clair's attempt to protect Libby leads her to an unimagined world of conspiracies and cover-ups. Soon her own life is at risk, and Clair is chased across the world in a desperate race against time.
Sean Williams was born in the dry, flat lands of South Australia, where he still lives with his wife and family. He has been called many things in his time, including 'the premier Australian speculative fiction writer of the age'
(Aurealis(
, the 'Emperor of Sci-Fi'
(Adelaide Advertiser)
, and the 'King of Chameleons' (
Australian Book Review
) for the diversity of his output. That award-winning output includes thirty-five novels for readers all ages, seventy-five short stories across numerous genres, the odd published poem, and even a sci-fi musical. He is a multiple recipient of the Aurealis and Ditmar Awards in multiple categories and has been nominated for the Philip K. Dick Award, the Seiun Award, and the William Atheling Jr. Award for criticism. He received the 'SA Great' Literature Award in 2000 and the Peter McNamara Award for contributions to Australian speculative fiction in 2008.
Handy Hinty Links:
Website:
Twinmaker
Sean Williams
Facebook
Twitter


First Impressions Last:
A twist between YA Dystopian and Sci-Fi brings a story that shows us what our world could possibly become with all our technology developments today... teleportation.
*************************
*************************
**********************
Behind the 416 Pages
3.5.....
I'm not sure exactly what I think about this book... I've got a mix of feelings towards it. The ending of this book is what definitely brought Jump up higher for me. It was such a rush and I thought that the start of the book should have been paced and presented more like how the ending was.
It's not a bad book, but it's not the best either. The start of the book as well as parts of the middle are confusing, as we get hardly any world building and explanation as to what everything is that is new. For me, because of this I wasn't as interested as I would have liked to because most of the time, you're trying to figure out what everything is.
Clair is also a complete mix. I don't hate her, but I don't love her either. We can see how she grow throughout the book and most of the time I wonder if it's the same person (most likely to make us wonder if she is a dupe). She becomes strong and a real leader at the end of the book, and by the end of the book, we want to see more of her and see how things go with Justin. I didn't like Zep, even though you could see that he cared for Clair, he wasn't doing the right thing by still being with Libby. And the fact that Clair didn't do more to get him to talk to Libby, she was still most likely going to go out with Zep, even though Libby is her best friend and then would be Zep's ex. That's a no go for me, it's basically betrayal! But I'm glad that what happened at the safe house happened so that I wouldn't throw the book to the ground at her stupidity and how she could do such a thing to her friend (ok I would definitely regretted it straight away because the book could have gotten damaged).
I think that it's hard for us to agree with Clair most of the time when she says that D-mat is something that should stay. She is right in a sense, but then when we think about it, in this world we are the Abstainers who don't use the system so we agree with them more because we hardly know about D-mat and what it is like. (Video below on D-mat).
I love the way that everything played out in the end. When you look back after the book is finished you can see how it all fits together. The way it was all done in the end was ingenious and now I definitely want to read Fall now! All of it is a complete shock and we are flipping through pages and pages to find out exactly what happens. Sometimes it seems like when it all unravels that Clair finds out the truth too easily, like she has known all along but didn't want to say. She is too smart at the end of the book and we wonder why she is like this now than before, it's her personality that changes a bit in the book but then it's also like she becomes a lot smarter as well.
Want to know how D-mat works? Watch this video made by the author!

Buy Me!


Available to purchase at all good bookstores and online
What's Next:
Now for a special surprise!

This novel was received for review via Allen & Unwin Australia. This review is entirely my own, no bribery or any deals have been made to sway this review or change my personal opinion of the novel.