Gilded Feathers (Gilded Feathers #1)
Released:
30 October 2013
Genre:

Romance, Paranormal
Publisher:

Self Published
Buy Me:
Amazon
At the Other End:
An alluring choice. A fantastical revelation. But what if it changed... everything?
Familiar with the art of the nightmare, twenty-two year old university student Cole Evans can't help but feel a deep connection to the horrifying illusions of her slumber.
Irrevocably drawn to obscure fantasy, Cole faces a defiant temptation of romance and her first encounter with the mysterious Drex. Covered in tattoos, she unexpectedly finds herself attracted to his dark magnetism and emerald eyes. Before her life takes an impossible turn.
Uncovering Drex's true Guardian identity, she is forced on a terrifying journey through the stars into his world - one that brilliantly weaves together the struggle of danger and desire. And the impossible reality of
gilded
feathers
.
Shhh... Take a Sneak Peek
I stood dumbstruck standing in the doorway – a vehemence of emotions racketing through me. The words
human girl
flashed on repeat behind my eyes – my knees felt weak as I gripped the cool surface of the counter top beside me. "I am done with this conversation, whatever it is that is brewing, let it. I'm going back to bed." He let out a frustrated growl and put his phone in his pocket. His back still toward me, he swiped his hands over his face as I took in his bare chest and feet, clad only in jeans. I moved robotically, stealthily through the screen door. He turned around to find me standing on the small deck, a look of horror stilled on his face. I looked down his bare upper body out of habit and noticed the heart of his tattoo was luminous in a deep red. My eyes stayed on this spot until I dragged them back up to meet his.
"I think it's time you tell me where you went."
________________________________________________________________________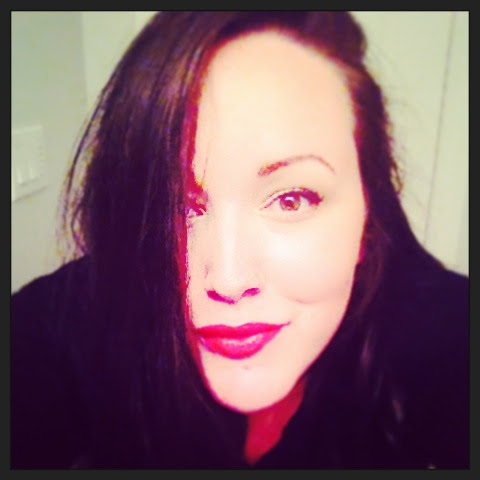 Author Bio:
J. Woods is a Toronto based writer, mother, and non-conformist. She lives between the space of her green tea and humming laptop when she isn't chasing after her free spirited daughter. She has studied too many things to count including radio broadcasting and entrepreneurship. Grasping at sanity, she realized writing stories about her insane thoughts was easier than explaining them to a doctor. Not to mention cheaper.
Find J.:
Website
|
Facebook
|
Twitter
Interview:
1. Where have we seen you before? (previous projects/works)
The Gilded Feathers series is my first breakout onto 'the scene!' I'm a newbie through and through.
2. What goes through your mind after your novel has been on sale for the first week?
Generally two things - I hope those who have been able to read it have enjoyed it as much as I did writing it and the second would be when I can get the next installment in the series on the shelves!
3. What inspired you to write this novel?
The Gilded Feathers series started off with a question when I was watching Ancient Aliens - my guilty pleasure - I remember asking myself what kind of story this could be if I added a little romance so I jotted down the idea in my phone and when one idea turned into a full page of notes and an outline appeared I just had to keep going with it!
4. What do you think about when getting/seeing negative reviews?
Truly I think negative reviews are helpful - both to me and to readers. Negative reviews tell me what that particular reader didn't like and I can take it and improve on it with my next novel. I'm not naive or ignorant enough to believe that everyone is going to love what I write but with a negative review I can take that and turn it *hopefully* into something positive for future projects.
5. How long was the writing/planning process?
The first novel, Gilded Feathers, took me longer than the rest because it started out with no end goal. When it started to develop I was able to write the complete series in the course of a year - each book taking me on average a couple of months.
6. What was your reaction to the cover art when you saw it for the first time? Did you have any ideas from the days of writing/inspiration?
I designed the covers myself and had to go through a number of different mock-ups. I knew the general idea of what I wanted when I first started writing so after draft after agonizing draft I was elated to look at the final project and say "yes - that's it!" They are simple and beautiful and I think compliment the story wonderfully!
7. Any plans for future writing projects? Any being worked on now?
I do! I already have a number of outlines prepared - two separate series and a standalone novel. Now it's just the difficult decision on which to delve into first!
8. Top 5 books
The Lion, The Witch and The Wardrobe, C.S. Lewis

The Kite Runner, Khaled Hosseini

The Alchemist, Paulo Coelho

The History of Love, Nicole Krauss
9. What book/s from other authors do you wish you had written?
Oh good question!
I think both C.S. Lewis and J.K. Rowling have the most fascinating imaginations
so to be able to write any one of their novels would be amazing!
10. Why read your novel?
My novel is full of romance and passion, desire and dangerous suspense. I made the characters relatable to the point
I've laughed and I've cried, I fell in love and felt my heart break with the characters of the book and I hope the readers of Gilded Feathers can experience the same. I absolutely adored each and every moment I spent writing about Cole, Chloe & Jayde, Drex, Tommy & Heychex and everyone in between.
With every one of my beta readers they asked me when was the soonest they could receive the next in the series and that alone, the fact I was able to instill that sense of excitement in one of my readers was such an amazing feeling. The story is heart warming and is about a young woman trying to find her way in life when faced with temptation and desire especially when it comes to the one guy she shouldn't want even after learning his true identity. Romance runs hot and high throughout each book with twists and turns of the paranormal including Guardians and the mysterious danger that seems to follow. If you enjoy a suspenseful romance with and edge of paranormal my novel is definitely for you!