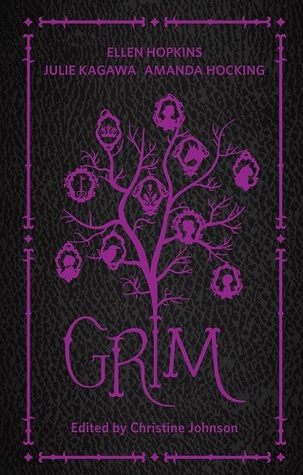 Grim {Anthology}
Released: March 2014
Genre: Paranormal, Fantasy
Publisher: Harlequin Australia
Buy Me:
Amazon
| Fishpond | Book Depository
At the Other End:
Step into a world of dark and twisted fairy tales, with stories by Julie Kagawa, Amanda Hocking and more...
Featured Authors:
Thinner Than Water
Author: Saundra Mitchell
Retelling of: Cat-Skin
Behind 26 Pages
Beast/Beast
Author: Tessa Gratton
Retelling of: Beauty and the Beast
Behind 28 Pages
Untethered
Author: Sonia Gensler
Retelling of: The Shroud
Behind 16 Pages
Light It Up
Author: Kimberly Derting
Retelling of: Hansel & Gretel
Behind 24 Pages
A Real Boy
Author: Claudia Gray
Retelling of: Pinocchio
Behind 28 Pages
Beauty and the Chad
Author: Sarah Rees Brennan
Retelling of: Beauty and the Beast
Behind 30 Pages
Sell Out
Author: Jackson Pearce
Retelling of: Snow White
Behind 13 Pages
This novel was received for review via Harlequin Australia. This review is entirely my own, no bribery or any deals have been made to sway this review or change my personal opinion of the novel.