Fangirl
Behind 300 pages
Released: 1 April 2014
Genre: Contemporary, Romance
Publisher: Pan Macmillan Australia
Buy Me:
Fishpond | Book Depository
At the Other End:
Cath and Wren are identical twins, and until recently they did absolutely everything together. Now they're off to university and Wren's decided she doesn't want to be one half of a pair any more - she wants to dance, meet boys, go to parties and let loose. It's not so easy for Cath. She's horribly shy and has always buried herself in the fan fiction she writes, where she always knows exactly what to say and can write a romance far more intense than anything she's experienced in real life.
Without Wren Cath is completely on her own and totally outside her comfort zone. She's got a surly room-mate with a charming, always-around boyfriend, a fiction-writing professor who thinks fan fiction is the end of the civilized world, a handsome classmate who only wants to talk about words . . . And she can't stop worrying about her dad, who's loving and fragile and has never really been alone.
Now Cath has to decide whether she's ready to open her heart to new people and new experiences, and she's realizing that there's more to learn about love than she ever thought possible . . .
Rainbow Rowell writes books. Sometimes she writes about adults (ATTACHMENTS and LANDLINE). Sometimes she writes about teenagers (ELEANOR & PARK and FANGIRL). But she always writes about people who talk a lot. And people who feel like they're screwing up. And people who fall in love.
When she's not writing, Rainbow is reading comic books, planning Disney World trips and arguing about things that don't really matter in the big scheme of things.
She lives in Nebraska with her husband and two sons.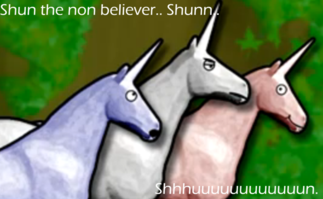 Yep, so I didn't like this book, as you can probably tell. I'm the black sheep (or in this case, I'm Charlie the Unicorn being shunned because I'm an non believer of Fangirl) because EVERYONE has been saying how good Fangirl is. I was so looking forward to this too! Especially because it was my first Ranbow Rowell book :(
Ok, so I'm going to explain why I didn't love this book..... But for those of you who would probably faint at my review because of the things I say that I didn't like, here is what I did actually like:
I liked the writing style and because of how funny the book actually is. I was chuckling to myself for most of this book, and it's probably the only decent reason why I wanted to continue reading Fangirl. The writing style was so easy to connect to, and it was down-to-earth. If I liked this book, it would have been really easy for me to actually get lost in.
You can go hide now, here are all the things I didn't like about the book.....
First of all Simon Snow's story felt like it was a FanFiction of Harry Potter. It would have been ok if Harry Potter didn't exist in their world, but it did... and Harry Potter is mentioned by NAME. (Only once, but still). It just gave me a really weird vibe about it all, and honestly didn't sit right with me (even though I have never even gotten past the first Harry Potter book). Plus, the whole Simon Snow excerpts just made no sense to me.They were completely irrelevant to the story, and it just made it all even more boring. At first I started reading them, but then I just gave up on them and skipped them all. Talk about major book fluff.
The book is more than 400 pages.... but 400 pages of what? Seriously? I was about 36% into this book and I was contemplating whether to put it down and not finish it. It felt like there was NOTHING happening. At. All. Maybe it's because the book I read before this was beyond amazing and full of action, that this one was a complete miss for me.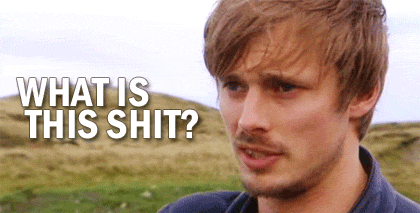 Alas, I continued in the hope that this would get better.... Then the rest of the book for me was just like MEH, let's just finish it. Sure, I finished it in a day, but I knew that I had to get it all over and done with so I wouldn't get stuck in a 'every-book-I-read-now-is-terrible' rut after I finished this. Plus, the plot hardly went anywhere. Sure it turned out there was actually a plot, but it wasn't anything special that could have made up for that start.
I didn't like the characters all that much. Especially Cath.... and Wren...... and Levi half of the time. The only character I actually did like was Reagan. She was really cool and she didn't take any of Cath's shit. Plus with Levi goddamn smiling all the bloody time, who wouldn't be constantly moody with that guy! I know I would, it would feel so..... fake. Then comes Cath. I don't know where to start with this girl.
So when she actually got together with Levi, and they were driving to her home to see her dad, she is completely scared of kissing Levi or what a kiss might even do or what it would mean, but then here she is kissing his knuckles! Ummmm, what? When did you get over this and why didn't I get to see you proclaim that you now like making the first move, or that you actually like kissing? And it was like this with the rest of the book straight after that! Not the kissing thing, but how we actually don't see her actually doing anything, yet there is a random paragraph that just so happens to tell us that she has already done it. I just don't get this! We get to see every, single minor detail in her life play out, then when it gets to the end, we completely skip over it all and I feel like asking "wait, I wanted to see what she would do!", and I was so frustrated because we didn't even get to see what her Fiction-Writing story was about! After her carrying on that she doesn't want to do it, and seeing all these random chapters of Simon Snow that she reads to Levi thrown in, you wouldn't think to see at least some of her Fiction-Writing task that she so loathed to write? I wanted to see her grow in a writing sense, because after all, the book is about her writing FanFiction. Also, this girl has no common sense, whatsoever.
Wren was completely shallow. I get that she wanted to move on from just being a twin, into being just Wren, but it was all handled wrong.
Seriously, we hear the entire novel about Wren and her new bestie/roommate Courtney, and then a few months (I'm assuming) after she goes into hospital because she's a drunk-ass bitch, we get told that they aren't really on good terms anymore? I would have liked to know what happened! PLUS, once she decides that she wants Cath back as her sister/bestie, she doesn't even try to make up for all the shit that she caused, and all the hurt that she caused Cath because she was ditching her. The worst part was that Cath just hacked it and didn't give a damn because she got her sister back, but she has the right to an apology or something! jeez. Oh, and my Wren hate-o-meter instantly went up when she said, "Everyone else drinks." I just.... I can't.... What is this? I was about to throw the book after that line.
So, although I didn't like this book, I did like some parts of it. Also, I'm not going to give up on reading this writer's books, great things are always said about Elanor & Park (ok, great things were said about this book too, but still) and I'm going to give it a shot...... one day.
This novel was received for review via Pan Macmillain Australia. This review is entirely my own, no bribery or any deals have been made to sway this review or change my personal opinion of the novel.