I've been tagged for these two by Kelly at Diva Booknerd, thanks lovely!!
________________________________________________________________________
TBR
How do you keep track of your TBR pile?
I've got a fantasy TBR (aka Goodreads) and an actual TBR (paperback review copies).
With my Goodreads TBR I used to try and keep track through there, but now with having so many review copies and being so behind, I only go by paperback review copies at the moment.
Is your TBR mostly print or eBook?
It's all print actually. I don't have time to do eBooks at the moment, but I've always been a fan of print copies over eCopies anyway, so no harm really, that being said though, I love my Sony Reader. When I was accepting review requests, it was pretty even with print and eBooks.
How do you determine which book from your TBR to read next?
Well, because my TBR is all review copies from publishers, I usually read them in the order that I get them. I know a lot of people go by the release date, but for some reason, my first-in method is working. Maybe one day I'll change it up and go by release date, but I can't help put ARCs at the top of my pile and reading them first, so I'm not too sure how that will go if I ever start.
A book that's been on your TBR the longest?
In my current TBR, it's Dangerous Creatures (reason above). I've had it since before it came out as a review copy from the publisher.
Fantasy Goodreads TBR, there are a few... The Wolves of Mercy Falls series by Maggie Stiefvater, Old Kingdom Chronicles by Garth Nix (reading Sabriel now with Kelly!), Unearthly series by Cynthia Hand, and the Touch series by Laurie Faria Stolarz, just to name a few. These have been on my Goodreads TBR since I joined... so 2011 sometime :/ oops
A book you recently added to your TBR?
Ummm, recently it's been Whisper the Dead by Alyxandra Harvey, Conjured by Sarah Beth Durst, Crash by Sean Williams, Pathfinder by Angie Sage, Diamonds in the Rough by Michelle Madow plus a few more that I recently received for review!
A book on your TBR strictly because of it's beautiful cover?
Looking at my current TBR I have a few, but the one standing out is:
Sabriel by Garth Nix (I'm reading this now and I'm obsessed with this cover, it's gorgeous!) Just look at it!!

On my fantasy Goodreads TBR I've got a few, yeah I'm pretty bad when it comes to my fantasy TBR, plus, I'm a bit obsessed with covers:
Left - Right: Awaken by Katie Kacvinsky, Smokeless Fire by Samantha Young, The Reckoning by Alma Katsu, Mystic City by Theo Lawrence, Linked by Imogen Howson and The Map of Time by Felix J. Palma.
I'm not sure if I'll get around to reading these books, but they get bonus points for being so pretty.
A book on your TBR that you never plan on reading?
On my current TBR, for some reason I'm trying to shy away from reading Razorhurst by Justine Larbalestier. I honestly don't know why I don't want to read it, but it just gives me a bad feeling looking at it.....
An unpublished book on your TBR that you're excited for?
If you've seen me on Twitter, then you must know that I would willingly sell limbs for a copy of this book prior to release (Jan/Feb 2015):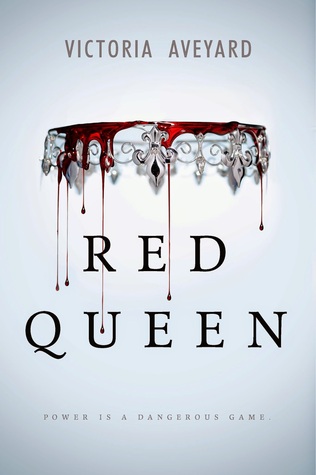 Red Queen by Victoria Aveyard
I can't even begin to describe my excitement for this book. I'm trying to decide whether to read the first chapter on MTV or not.... I want to read the first chapter, but I want the whole book!! Plus, that cover.....
A book on your TBR that basically everyone has read but you?
hahaha that would be most of them :P But the ones I'm mostly excited for is The Winner's Curse by Marie Rutkoski and Dorothy Must Die by Danielle Paige
A book on your TBR that everyone recommends you?
It would probably have to by Spark by Rachel Craw. I've got it on my shelf, but I've got to read around to reading it.
A book on your TBR that you're dying to read?
Firstly, all books from the last three questions. Others I haven't mentioned would be The Treatment by Suzanne Young, The Rain by Virginia Bergin and Whisper the Dead by Alyxandra Harvey
How many books on your Goodreads TBR shelf?
Currently it's 770, but that being said, my paperback review requests TBR have not been added to that. My current TBR has around 35 books.
________________________________________________________________________
My bookshelves! It's quite long and is at an awkward spot to be able to take a proper photo of it, but they are in the correct order above. Yes, there is one missing shelf in the first photo (my TBR, or half of it). Yes, the one at the bottom is another separate shelf.
Is there a book that you really want to read but haven't because you'll know it'll make you cry?
I don't add books just for the sake that it would make me cry, I add them if they look, sound and have mostly good reviews/ratings.
But I think it would be the rest of the Marked series by P.C Cast and Kristen Cast, and I would only cry because of how bad the series is, not for any emotional reason or for anything happening in the book.
Pick one book that helped introduce you to a new genre?
Ohhh, a tough one...
The Twin's Daughter by Lauren Baratz-Logsted got me into Thriller and murder stories. It was the first thriller that I reacted to and shocked me.
The Society of S by Susan Hubbard got me into paranormal/vampire books (yes, I read this before I even read Twilight)
Whispering to Witches by Anna Dale has always been a favourite of mine, getting me into paranormal/witches.
I love dystopian books, but I can't seem to remember which one got me hooked.
Find a book you want to re-read?
Here are a few that I've had the urge to re-read:
A Breath of Frost by Alyxandra Harvey. When I was expecting to book in my letterbox and requesting it, I was so excited for it that I had the biggest urge to re-read the first book! (I ended up skimming it)
Son of the Shadows by Juliet Marillier. This book has always got me wanting to re-read it. It's my favourite book of all time so that's natural haha.
Wildwood Dancing by Juliet Marillier. Another Juliet book that I absolutely love!! I randomly get the urge to re-read this one too.
Is there a book series you read but wish you hadn't?
Definitely would be the Marked series by P.C. Cast and Kristen Cast and 10 books into the series later....
This one isn't as bad, but the Gone series by Michael Grant. Kelly and I have been buddy reading this series and it's just gotten worse and worse with each book. I think this series would have been better in theory, especially with all the hype surrounding it.
If your house was burning down and all your family and pets were safe, which book would you go back inside and save?
If there wasn't any other personal items to get, I would definitely get my copies of Daughter of the Forest, Son of the Shadows and Wildwood Dancing by Juliet Marillier (all signed), Daughter of Smoke and Bone trilogy by Laini Taylor (signed), and The Secrets of the Pistoulet and The Legend of the Villa Della Luna by Jana Kolpen (gifted by my aunty & cannot find any other copies to re-purchase) I've got a whole heap of others signed, but it I don't have some sort of trolley then I can't really carry many.
Is there one book on your bookshelf that brings back fond memories?
The Secret Garden by Charles Hodson Burnett. I loved this book as a child and thanks to Kelly, she gifted me with a beautiful copy!
The Secrets of the Pistoulet and The Legend of the Villa Della Luna by Jana Kolpen. I discovered Legend at my aunty's house, and every time I went over there, I read it and re-read it. Every. Single. Time. Now, she's given me my own copy as well as the first book (which we didn't know about)
Find a book that has inspired you the most?
Unfortunately, I don't have a book that is inspiring in the way that this question probably is asking, but there are a few books that inspired me to get back into reading while I was in high school:
The Silk Vandetta by Victoria Holt
The House of a Thousand Lanterns by Victoria Holt
The Book Thief by Marcus Zusak
Sevenwaters series by Juliet Marillier
Wildwood Dancing series by Juliet Mariller
Do you have any autographed books?
Do I ever!!
Rain by Amanda Sun
Undying by Bernadette Azizi
The Story of Tom Brennan by J.C. Burke
Hush, Hush, Crescendo and Silence by Becca Fitzpatrick
Audrey's Guide to Witchcraft by Jody Gehrman
Tempation, Belonging and Forever by Karen Ann Hopkins
Fallen by Lauren Kate
Afterworld by Lynette Lounsbury
Fractured Truth by Rachel McClellan
The Secret Diamond Sisters and Diamonds in the Rough by Michelle Madow
Daughter of the Forest, Son of the Shadows and Wildwood Dancing by Juliet Marillier
Before I Fall, Delirium and Pandemonium by Lauren Oliver
The Bone Season by Samantha Shannon
Forsaken by Lisa M. Stasse
Daughter of Smoke and Bone, Days of Blood and Starlight and Dreams of Gods and Monsters by Laini Taylor
(Oh, and just Disruption and Corruption by Jessica Shirvington as of next Thursday!!)
I won't take photos of these, there are too many haha. The itallic authors I have met.
Find a book that you have owned the longest?
Wow. I don't even know, but I'm guessing
Circle of Three: In the Dreaming by Isobel Bird, I've had this book since I was in primary school! Surprisingly enough, this is the 5th book, and I haven't read any of the others in the series (I've been meaning to).. oops!
Is there a book by an author that you never imagined you would read or enjoy?
Ohh, I'm not sure about this one... I'm always hesitant with contemporaries, not sure why. When Pushing the Limits came out to request, I wasn't sure about it, and I didn't. It wasn't until the next book came out, Dare You To, that I requested it and ended up loving every single book so far.
Same would have been with The Twin's Daughter by Lauren Baratz-Logsted, Apple and Rain by Sarah Crossan and Something Like Normal. I ended up loving them all!!