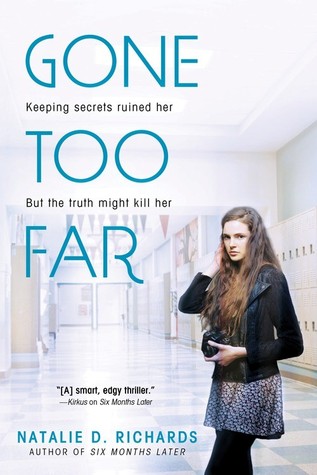 Gone Too Far
Behind 304 Pages
Released: 6 January 2015
Genre: Contemporary, Mystery, Thriller
Publisher: Sourcebooks Fire
Pre-Order: Amazon | Angus & Robertson | Booktopia | Bookworld | Book Depository | Fishpond
At the Other End:
Keeping secrets ruined her life. But the truth might just kill her.
Piper Woods can't wait for the purgatory of senior year to end. She skirts the fringes of high school like a pro until the morning she finds a notebook with mutilated photographs and a list of student sins. She's sure the book is too gruesome to be true, until pretty, popular Stella dies after a sex-tape goes viral. Everyone's sure it's suicide, but Piper remembers Stella's name from the book and begins to suspect something much worse.
Drowning in secrets she doesn't want to keep, Piper's fears are confirmed when she receives an anonymous text message daring her to make things right. All she needs to do is choose a name, the name of someone who deserves to be punished...
Chapter One
Late. So late. I slam the car door behind me and race across the parking lot. My hair is tangled in the strap of my messenger bag, my shoes are untied, and I have no idea how I'm going to get to my locker without getting caught. I have to try because I need those chemistry notes.
Technically I needed them last night when I'd actually had the time to study for my midterm, but I didn't think it was a big deal. I know the materials and I figured I could do a little last-minute cramming during first period homeroom. It was a decent plan until my phone battery died, taking my morning alarm down with it. Now I'll be lucky to catch the last ten minutes of first period.
I hop the curb and slow as I slide into the shadow of the ancient brick school. It's probably not classy to barrel through the door like an escaped convict. Of course, it probably wasn't classy flying into the parking lot doing Mach 2 either.
I check my barely charged phone for the time as I climb the first step. My foot slips on something halfway up the stairs. It's like hitting a patch of ice. I lunge gor the handrail and jerk myself upright, glaring down at the thing that tripped me –a dropped notebook.
Nothing special. It's a plain, spiral-bound pad, the kind you can get at the drugstore for less than a buck. Pretty much worthless, excerpt I know it's probably chock-full of notes. Notes seomone will need during midterm week.
Oh, fine.
I snatch the notebook off the steps and shove it into my bag. Lost and Found is going to have to wait though. It's in the student store, which is on the opposite side of the school.
________________________________________________________________________
At seven, Natalie D. Richards wrote about Barbara Frances Bizzlefishes (who wouldn't dare do the dishes.) Now she writes about awesome girls, broody boys, and all things dark and creepy. Natalie lives in Ohio (Go Bucks!) with her techno-wiz husband, three amazing kids, and a seventy pound dust-mop who swears he's the family dog. Her psychological thriller, Six Months Later, will be released in October 1, 2013 by Sourcebooks Fire. Until then, you'll probably find her writing her next book or trying to wade through the towers of dog-eared paperbacks that have taken over her bedroom.

Find Natalie:
1. Where have we seen you before? (previous projects/works)
Um, Starbucks maybe? Target? And if you saw me at Sephora with outrageously priced mascara, I was TOTALLY SHOPPING FOR A FRIEND! Ahem. ;-) Seriously, my first book, Six Months Later, was a Barnes & Noble Top Teen Pick and a nominee for the 2014 YALSA Teens' Top Ten list. It's also been recently nominated for a Rosie in Indiana which is super exciting!


2. What goes through your mind after your novel has been on sale for the first week?
In all honesty, it's a really maddening mix of terrified/thrilled/sick/elated/relieved. It's hard to get my head around all the emotions I feel when a book comes out. Mostly, it boils down to trying to embrace that there's not much left to be done, which is really hard. I'm the kind of writer that is never quite satisfied so I have to make like Elsa, and let it go.


3. What inspired you to write this novel?
I had a scene with the creepy anonymous text messages come into my brain and it planted a seed about vigilante justice. I started thinking about how justice (and even truth sometimes) is a fragile thing—so much depends on your perspective. I also felt a pressing need to write a book about a photographer that sees more than she bargained for. Gone Too Far was kind of a blending of all of those bits of inspiration.


4. What do you think about when getting/seeing negative reviews?
I'm going to be honest, it's tough. I can appreciate differences of opinion and that not every book resonates with every reader, but it's still rough. It's really important to me to think through everything my characters do, to analyze every aspect of my books. If I let myself dig too deep into super negative reviews, especially on a tough day, I'll just feel like absolute crap. Sometimes a bit of distance is critical to my sanity. LOL.


5. How long was the writing/planning process?
Gone Too Far was my toughest book by a landslide. Piper is on a very hard road and every bit of her journey is tangled into something else in the book. I had to be very careful and go through things more than once, so this one took right around a year to write. Which is about six months longer than my first!


6. What was your reaction to the cover art when you saw it for the first time? Did you have any ideas from the days of writing/inspiration?
I absolutely loved it. There are a few critical scenes that happen near lockers, and I had asked if we could have lockers on the cover. They're there! Also, Piper has a Nikon, which is a tiny detail, but one that was really important to me.


7. Any plans for future writing projects? Any being worked on now?
My third book with Sourcebooks (tentatively My Secret to Tell) is currently slated to be released late next year. That book was set in my favorite home-away-from-home town, Beaufort, North Carolina, and it includes a seriously damaged hero who was a blast to get to know. I'm starting my fourth book now, but can't say much about that one. Yet. ;)


8. Top 5 books
Always such a tough question!! I'm going to go with five of my recent favorites, but this list is by no means inclusive and it would change day to day, truly!
Between Shades of Gray – Ruta Sepetys. This is an amazing historical YA, truly a must read that will highlight a very different war survival experience.

Stolen – Lucy Christopher. Haunting and beautifully written, I devoured this book in a single, breathless night.

Remember Me – Romily Bernard. This is the second book in the Find Me series, but it's the one where we really get to know Wick and her damage. It's more emotional and I adored this book.

The One and Only Ivan – Katherine Applegate. This is maybe the most profound book I've read in five years. It's a middle grade novel about a gorilla in a shopping mall and it's so powerful I made everyone in the house read it!

Sex and Violence – Carrie Mesrobian. This is a raw and gritty story told through one of the most authentic male POV characters I've ever read. I adored every page. A book that shouldn't be missed.

9. What book/s from other authors do you wish you had written?
Oh, man, this is such a great question. I think right now it would have to be The One and Only Ivan. Every single line in that book felt right to me. There wasn't one wasted word. Not one line that didn't hit me with a bit of powerful. It was really gorgeous.


10. Why read your novel?
Because it's terrifying and possible. Most of the bits and pieces are inspired by things I've experienced in my own life or seen in the lives of others. Piper is an ordinary girl—a decent person—and she doesn't want to hurt a soul. But meaning well and doing good are two very different things. That's what Gone Too Far is all about.