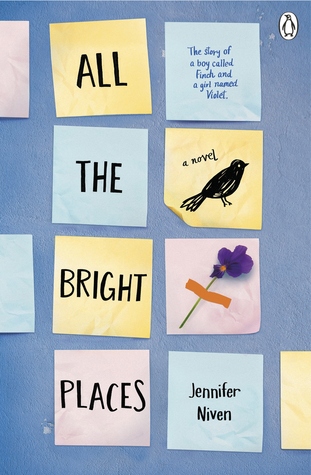 All the Bright Places
Behind 400 Pages
Released: 7 January 2015
Genre: Contemporary, Romance
Publisher:

Penguin Teen Australia
Pre-Order:
Angus & Robertson | Booktopia | Bookworld | Book Depository | Fishpond
At the Other End:
Theodore Finch is fascinated by death, and he constantly thinks of ways he might kill himself. But each time, something good, no matter how small, stops him.
Violet Markey lives for the future, counting the days until graduation, when she can escape her Indiana town and her aching grief in the wake of her sister's recent death.
When Finch and Violet meet on the ledge of the bell tower at school, it's unclear who saves whom. And when they pair up on a project to discover the 'natural wonders' of their state, both Finch and Violet make more important discoveries: It's only with Violet that Finch can be himself - a weird, funny, live-out-loud guy who's not such a freak after all. And it's only with Finch that Violet can forget to count away the days and start living them. But as Violet's world grows, Finch's begins to shrink.
By the time I was ten, I had already written numerous songs, a poem for Parker Stevenson ("If there were a Miss America for men, You would surely win"), two autobiographies (All About Me and My Life in Indiana: I Will Never Be Happy Again), a Christmas story, several picture books (which I illustrated myself) featuring the Doodle Bugs from Outer Space, a play about Laura Ingalls Wilder's sister entitled Blindness Strikes Mary, a series of prison mysteries, a collection of short stories featuring me as the main character (an internationally famous rock star detective), and a partially finished novel about Vietnam. I was also an excellent speller from a very early age.
In 2000, I started writing full-time, and I haven't stopped... I've written eight books (two of those are forthcoming), and when I'm not working on the ninth, I'm contributing to my web magazine, Germ (
www.germmagazine.com
), thinking up new books, and dabbling in TV. I am always writing.
I don't even know what to really say about this book. This book made me feel. Like, really made me feel. You will feel everything when reading this book, not all at once (thankfully), but slowly and painfully (in a good way)
Honestly, I've got reviewer's block right now. I don't know what to say about this book... Simply, it was amazing, and brilliant in every way possible. I didn't expect this book to be as amazing and brilliant as it was.
The characters were perfect and eccentric and annoying (some of them) to a certain degree, but it was perfect for the story. Violet and Theo had two such contrasting voices that made them stand out to me so much, it made me want to know them better and to want more than I already had.
The writing was perfect, it was so easy to be able to slip into this book and back and forth between Violet and Theo, as well as easily be able to continue with the story and be compelled to read and not stop.
The plot was just as it needed to be. It had everything that you had to be there and more. I never expected where the plot was going.
except, I had a really bad feeling that Theo was going to die, just wasn't sure how exactly. Not that it didn't rip my heart out even more when I found out it was true
The ending was absolutely beautiful and heart-wrenching. I was crying for the last few chapters in this book, yet it was all done so perfectly, and I love how it ended off with Violet as a person. This book is about Theo individually, and it is also more individually about Violet. Strange, but true. Just go read this..... and prepare yourself.
This novel was received for review via Penguin Teen Australia. This review is entirely my own, no bribery or any deals have been made to sway this review or change my personal opinion of the novel.