Impulse (Submerged Sun #2)
Behind 288 Pages
Released: 1 December 2014
Genre: Romance, Fantasy
Publisher: Harlequin TEEN Australia
Buy Me:
Angus & Robertson | Booktopia | Bookworld | Fishpond
At the Other End:
When Miranda Sun returns to Marin on the eve of her eighteenth birthday, this time of her own free will, she quickly learns that her worst fears have been realised. The glittering underwater city is not as she had left it, nor too is Marko, the young king who has dominated her thoughts and heart for the last twelve months since leaving Marin.
Miranda, however, has not made the journey to Marin alone, and now must contend with not only Marko's evil brother Damir but more surprisingly her sister Lauren who has an agenda of her own. Marko's power begins to wane and with cracks beginning to show in the domed Utopian city, and veiled danger lurking everywhere, she quickly learns that in this dazzling city full of beautiful people she can trust no-one but herself.
If Miranda wants to survive, she must decide between the hardened sensibilities in her head and the hungers of her heart. Will her decision cause more heartache or can she help to save Marko's throne?
Vanessa Garden lives on the coast of Western Australia with her husband, their three chatty children, and three calming goldfish. When she is not writing, Vanessa can be found at the local bookstore where she works part-time. Being a bookseller as well as an author, Vanessa loves nothing more than immersing herself in the exciting world of books. When she is not gushing about her favourite reads to customers, or dreaming up her next novel, she enjoys spending time with the people she loves most.
Have I mentioned how much I love this series? Seriously, this book was so freaking good I literally read it in one sitting. I even broke my 'don't read past 12am' ban that I have, just to finish this book. I could not put it down, and didn't want to. I was left absolutely craving for the next book, feeling stunned and shocked at the events and the revelations that plagued the end of this book.
I loved Miranda again in this book, I felt the same connection to her as I did in the first book, and I am ecstatic that we get to see more of her in Marin. The only thing I didn't like about Miranda, was how blinded she was to her sister. I absolutely hated Lauren, with a passion. I could tell from the very beginning that she was a spoilt, good for nothing girl, who didn't care about anyone but herself. She was dim witted and was a complete air head, and so freaking gullible that I wanted to vomit. Miranda is dedicated to her sister, and it was sad for me to see Miranda not even realize who her sister really was. Her sister doesn't care about her, only herself and her own selfish reasons. Seriously, as soon as Lauren sees Marko (knowing that Miranda is in love with him), she full on flirts with him! Are you for real girl? If you were my sister, I would slap you left right and center (which probably wouldn't be enough for Lauren).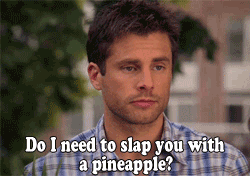 I could honestly see what Lauren would do, she was a predictable annoyance that complicated Miranda and all of Merin and the human world life because she is so fucking gullible. Sorry, Miranda is better off without her. I could ramble on about this Bitch all day. But you know what, having Lauren in this book was beneficial to the story and it wouldn't have been the same without this backstabbing bitch, so I guess she's good for something....
So, you know how I was torn in the last book with liking both Marko and Robbie? Well, I'm still in love with both of them, but Marko definitely shines as the one for Miranda, and I just love Robbie for being him. There was zero love triangle in this book where any other author probably would have added one in, I am so so so so happy that Vanessa didn't, and it just made me love the book even more! Marko was completely dedicated to Miranda, and I could see that they were both as scared as each other to make the first move. The moment they first saw each other was definitely swoon worthy (ok, so I swooned a little).
There are so many twists and turns in the plot, and a whole heap of new and exciting things that happen. There isn't a dull moment in this book and I'm so happy that this book didn't fall have "middle book-itis" and be all fluff. I loved discovering and exploring Marin again, and it's a bit strange when the sci-fi twist came into it, but it was a good strange and everything made all the more sense.
The ending just clicked. I was shocked at everything that happened, and what happened in the last chapter left me stunned because of the position Miranda and Marko were in.
I was shocked when Marko and Miranda were "banished" together on the mainland. I haven't seen the two main characters in a series get pulled out of the action before, to be sent together to wait until someone collects them after it's safe to go back when all the action is about to happen! Its not a bad thing, just an unexpected one. But I guess nothing would be happening anyway if they were down there while the wait for the baby comes, so they probably aren't missing out on much. Oh well, going to have to see what happens and what they return to in the next book!
Can I just get teleported a year into the future so I can read the next book and see how it all ends! This series is a definite read, and the ending will save you stunned and speachless. What are you waiting for? I'm ordering you to read this book!
Captivate (Submerged Sun #1)
Released: 1 January 2014
Genre: Romance, Fantasy
Publisher: Harlequin TEEN Australia
Buy Me: Amazon | Angus & Robertson | Booktopia | Bookworld | Fishpond
At the Other End:
In a glittering underwater world, nothing is as it seems...

For the past twelve months since her parents' death, seventeen-year-old Miranda Sun has harboured a dark secret — a secret that has strained the close relationship she once shared with her older sister, Lauren. In an effort to repair this broken bond, Miranda's grandparents whisk the siblings away on a secluded beach holiday. Except before Miranda gets a chance to confess her life-changing secret, she's dragged underwater by a mysterious stranger while taking a midnight swim.

Awakening days later, Miranda discovers that she's being held captive in a glittering underwater city by an arrogant young man named Marko...the King of this underwater civilisation.

Nineteen-year-old Marko intends to marry Miranda in order to keep his crown from falling into the sinister clutches of his half-brother, Damir. There's only one problem. Miranda is desperate to return home to right things with her sister and she wants nothing to do with Marko. Trying to secure her freedom, Miranda quickly forms an alliance with Robbie — Marko's personal guard. However, she soon discovers that even underwater, people are hiding dangerous secrets..
Untitled (Submerged Sun #3)
Publisher:
Harlequin TEEN Australia
This novel was received for review via Harlequin TEEN Australia. This review is entirely my own, no bribery or any deals have been made to sway this review or change my personal opinion of the novel.