Stacking The Shelves is all about sharing the books you are adding to your shelves, may it be physical or virtual. This means you can include books you buy in physical store or online, books you borrow from friends or the library, review books, gifts and of course ebooks!
________________________________________________________________________
Thank you Bloomsbury Australia, BenBella Books and Pan Macmillan Australia for sending me these review copies!
Thanks to Pan Macmillan Australia
Frostfire (Kanin Chronicles #1) by Amanda Hocking
I've been wanting to read Amanda Hocking's Trylle series for such a long time and now I get to! Plus, it doesn't hurt that this is such a gorgeous cover :) I think I prefer this cover to the US cover.
Thanks to Bloomsbury Australia
Not in the Script (If Only... #3) by Amy Finnegan
There will be Lies by Nick Lake
The Vanishing Game by Kate Kae Myers
I just finished the first book in the If Only series, and if the rest of the series is just as fun as the first one then I'm definitely going to like it. There will be Lies and The Vanishing Game both sound really good, and I can't wait to start both of them.
The Unseemly Education of Anne Merchant (Anne Merchant #2) by Joanna Wiebe
The Wicked Awakening of Anne Merchant (Anne Merchant #2) by Joanna Wiebe
I'm part of the blog tour for Wicked and the amazing people at BenBella books wanted to send me the series all the way here to Australia! Can't wait to start this series, even though there hasn't been much rave about it.
My mum and I absolutely love this series, so I couldn't stop myself from purchasing this book when I saw it in the shop. Can't wait to start it! Mum is reading it first so let's see how she goes :D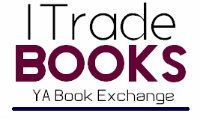 Traded with Jane at Much Ado About Books
The Walled City by Ryan Graudin
I've been wanting to read this book ever since the Laini Taylor bloggers night at Hachette last year. I'm still super excited and now I have a copy I have to read it!