Awoken (The Lucidites #1)
Behind 312 Pages
Released: 24 November 2014
Genre: Science Fiction, Fantasy
Publisher: One-Twenty-Six Press
Buy Me:
Amazon
At the Other End:
Around the world humans are hallucinating after sleepless nights.
In a sterile, underground institute the forecasters keep reporting the same events.
And in the backwoods of Texas, a sixteen-year-old girl is about to be caught up in a fierce, ethereal battle.
Meet Roya Stark. She drowns every night in her dreams, spends her hours reading classic literature to avoid her family's ridicule, and is prone to premonitions—which are becoming more frequent. And now her dreams are filled with strangers offering to reveal what she has always wanted to know: Who is she? That's the question that haunts her, and she's about to find out. But will Roya live to regret learning the truth?
"I cannot grant you any more time," Shuman says. "I need your answer."
I scan the surface of the water, looking for nothing in particular. She can wait for my answer. She will.
I push my fingers into my eyes and inhale deeply. This duel is inevitable. Zhuang and his challenger's futures are intertwined. Any attempt to evade the other person will only bring the two together. And somehow I was elected by people I don't know, for a danger I only recently knew existed. Still none of this makes sense, which is why I know I have to rely on instinct. It's all I have left. "Fine," I say a bit pathetically. "I'll do it."
A smile would be nice, or maybe a "good for you." Instead Shuman, who appears to be all business, all the time, begins spouting instructions. "Your next step is to find the Lucidite Institute. Since you are relatively new to dream traveling there are many risks you face."
No big surprises there.
Shuman continues, "You must dream travel to the Institute while fully submerged in water."
Um, what? "Are you serious? I'll drown."
"There is that risk, yes, but the only way to enter the Institute is through water. To travel there you must return to your body and then immerse yourself in water. I advise you to know you are one with it. It is through this knowledge that you overcome the fear of drowning and focus on the higher task of dream traveling. If you remain calm and focus properly then you will travel and arrive at the Institute. If you are unsuccessful, then yes, you will drown."
"Oh, is that all? Sounds like a piece of cake." I'm wondering now if I made the right decision.
Shuman narrows her eyes, but doesn't respond otherwise.
I rub my temples as an overwhelming pressure erupts behind my eyes. "This is all so strange, it sounds like a recurring dream I've been…" My words fall away as the inevitable truth dawns on me. "You put those dreams in my head, didn't you?" I accuse, staring at her rigid persona.
"The Lucidites are responsible, yes," she says, her tone matter-of-fact.
"What! That's insane! That's awful. Night after night I dreamed I was drowning myself. Do you know how horrifying that is?"
"You should be grateful. We have prepared you for the journey you are about to take. Your subconscious mind has already practiced much of what you are going to do."
"Grateful!?" I shake my head in disbelief. "I thought I was losing my mind. I didn't sleep well for weeks. No. I'm not the least bit grateful. You invaded my subconscious," I spew, more frustrated now than frightened.
Shuman takes a long inhale and says, "Everything that has been done was to protect you and the future."
________________________________________________________________________
Released:
24 November 2014
Genre: Science Fiction, Fantasy
Publisher: One-Twenty-Six Press
Roya desperately wishes she was above ground, on a sunny patio, watching the lake lap up on the shore.
Instead, she finds herself trapped with the Lucidites.
Her brother is mysteriously wasting away, and at every turn she finds a new betrayal. Just when she thinks she's finally escaping the Institute, a new danger unveils itself. A secret society of Dream Travelers has declared war on the Lucidites by abducting a head official.
It's up to Roya to figure out who's behind it and how to save everyone she cares about most.
More action packed than its predecessor, Stunned is captivating and will leave audiences squirming from the tension and also begging for more.
________________________________________________________________________
Revived (The Lucidites #3)
Behind 326 Pages
Released: 24 November 2014
Genre: Science Fiction, Fantasy
Publisher: One-Twenty-Six Press
Buy Me:
Amazon
At the Other End:
The pieces of Roya's life don't fit together anymore.
Nothing makes sense.
Joseph could be to blame for the fall of the Lucidites' society. Zhuang is back and more powerful than ever. Chase, a gorgeous psychopath, is demanding her love and commitment. And the Institute is swarming with lies, betrayals, and conflicts.
Roya knows she needs to focus and reconnect with Joseph if she is to survive, but how can she find clarity when everything around her is unraveling?
The final chapter in The Lucidites Series will take up residence in reader's bones. All secrets will be revealed. All villains will be confronted. And the greatest obstacles will be that of the heart. Revived delivers, giving audiences what they want most from the last in a fast-paced, thrilling series.
________________________________________________________________________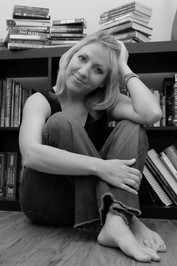 Sarah Noffke is the author of The Lucidite Series. She's been everything from a corporate manager to a hippie. Her taste for adventure has taken her all over the world. If you can't find her at the gym, then she's probably at the frozen yogurt shop. If you can't find her there then she probably doesn't want to be found. She is a self-proclaimed hermit, with spontaneous urges to socialize during full moons and when Mercury is in retrograde. Sarah lives in Southern California with her family.
Find Sarah:
1. Where have we seen you before? (previous projects/works)
I'm actually a new author. The Lucidites series is my debut.


2. What goes through your mind after your novel has been on sale for the first week?
So as a debut author I kind of freaked out when my novels were first published. Not like went into hysterics, I just had heart palpitations. I'd spent years alone with these books and characters and then all of a sudden they were out there for the world to enjoy and judge and discuss and it was the most overwhelmed I ever felt. Meditation and prescription meds got me through and now I'm feeling more like myself.


3. What inspired you to write this novel?
I've always been fascinated by dreams and sleep. Not just sleeping, but dreaming, is vital to our survival. If we don't dream then the human brain deteriorates. REM sleep deprivation in rats has shown a loss of survival behaviors, decrease of pain threshold and depression. In humans sleep deprivation causes hallucinations because it is so crucial to brain function. All this kept me thinking about the power stored in dreams and dreaming abilities. I spun these ideas around in my head until I concocted a villain (Zhuang) who stole human's abilities to achieve REM rendering them hallucinating zombies. And maybe also I was inspired by my own sleep deprivation at the time. My daughter was six months old and not sleeping through the night. I'm fairly certain I shouldn't have been operating a motor vehicle.


4. What do you think about when getting/seeing negative reviews?
Thankfully there haven't been a ton of those, but it does bruise your ego a little at first. I've actually been taking them seriously. I recognize I can't please everyone and writing is subjective, but I do want to improve. So if someone doesn't like something that I think I can change in future books then I make a note of it. I've had other reviews where it was kind of obvious that the person read outside their normal genre or didn't really read the book and I ignore those.


5. How long was the writing/planning process?
Almost five months. Before you think I'm some crazy writing robot, which I won't completely refute because it gives me mystery, let me qualify my original answer. It took me six weeks to actually write each of the books. However, I knew very little about writing when I started the project. I literally just sat down and wrote. Started on page one and wrote until I finished. No outlines. No connecting themes between books. None of that. So when I was done, I had three really great books in really poor shape. I then spent many months learning everything I could about writing, YA, publishing, and revising. Then I rewrote all of the books. And did it again and if memory serves me, again. So to answer the question fully, it took me roughly two years to write and complete a series I'm proud of.


6. What was your reaction to the cover art when you saw it for the first time? Did you have any ideas from the days of writing/inspiration?
I actually love the process for creating the covers. I originally wanted the eyes of different characters on the books, but thankfully my bestie convinced to do something a little more radical. I was overwhelmed with choosing a cover designer, so I ended up running a contest on 99 designs. I had tons of designers submit. I knew that I wanted the cover for Awoken to include water, with a drowning feeling. And there was one clear winner, Andrei Bat. He went on to design all of my covers for the series, as well as promo things. I couldn't be happier with his work and I was so happy to be a part of the each step of the process with him. My main vision for the covers were to have contrasting elements between all three so when they were side-by-side they stood out from each other. We went through hundreds of revisions, but Andrei was amazing to work with. If he isn't tired of my pestering then I plan to have him do the next series as well.


7. Any plans for future writing projects? Any being worked on now?
Launching these three books keeps me ultra-busy. As an indie author I count myself lucky that I have the honor of working on so many different parts of the book process. However, that means I have many different roles and a ton of responsibility.
I do have plans to start a new series very soon. It will involve a new society of Dream Travelers. More locations. More deceit. And more sassy characters. It's what I know and love.
8. Top 5 books
The Great Gatsby

His Dark Materials Series

Infernal Devices Series

Fire and Thorns Series

Angel and Demons


9. What book/s from other authors do you wish you had written?
All of the books on the list above. But I have to add two obvious ones: Harry Potter and Hunger Games. Pure brilliance.


10. Why read your novel?
One thing I keep hearing from readers who have finished the series is that the story is unique and unpredictable.
I'm honoured to hear these things. Honestly, the story surprised me when I was writing it. Common phrases that came out of my mouth while writing the series were: "He said what?", "I didn't see that coming!" and "You've got to be kidding me."
I felt like The Lucidites invaded my brain, told me their story and then left when it was complete. There are semblances in this series that relate to my own life, but there's a lot of stuff that I have no idea where it came from. I love that and I do agree with readers that it's unique.