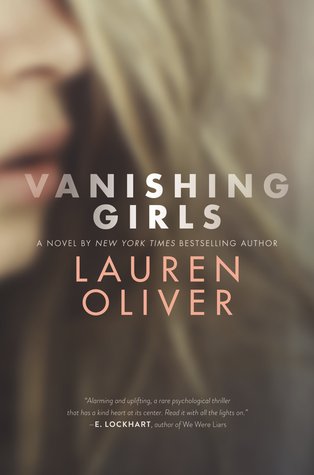 Vanishing Girls
Behind 336 Pages
Released: 10 March 2015
Genre: Thriller, Mystery, Contemporary, Romance
Publisher: Hachette Australia
Pre Order: Angus & Robertson | Booktopia | Bookworld | Book Depository | Fishpond
At the Other End:
Dara and Nicola used to be inseparable, but that was before - before Dara kissed Parker, before Nicola lost him as her best friend, before the accident that left Dara's beautiful face scarred. Now the two sisters, who used to be so close, aren't speaking. In an instant, Nick lost everything and is determined to use the summer to get it all back.
But Dara has other plans. When she vanishes on her birthday, Nicola thinks Dara is just playing around. But another girl has vanished, too - nine-year-old Elizabeth Snow - and as Nicola pursues her sister, she becomes increasingly convinced that the two disappearances may be linked.
Lauren Oliver captivated readers with her achingly beautiful first novel, BEFORE I FALL. She followed that up with the compellingly addictive DELIRIUM trilogy and her new novel, PANIC, in which she explores the true meaning of hope and fear. Lauren's first adult novel, ROOMS, will publish in September 2014.
She is also the author of two novels for young readers, LIESL & PO and THE SPINDLERS, delightful, scary and magical novels that are certain to become modern classics of children's writing. A graduate of the University of Chicago and NYU's MFA program, she lives in Brooklyn, New York.
I really enjoyed Vanishing Girls. It was different from what I thought it would be, even though I didn't go into it with much anyway. I thought that there would have been more of a connection between Madeline Snow and Dara, but it really just linked them together in a minor way. Let me tell you, I was going full out Dangerous Girls kind of thinking here with these two. (Yep, I'm that bad). But I really did enjoy it.
Urgh, another love triangle, this one was kind of subtle in a way, I'll give it that... but still a love triangle nevertheless. The constant push and pull with Dara and Nick over Parker, whether it be as a best friend or a boyfriend, these two girls had most of their dramas because of Parker. Not that I liked him. Seriously, he was like a bad stereotypical love-triangle female. That's honestly what it felt like. Always going back and forth between the sisters, and he was the one who was tearing them apart.
I don't think I could ever get over Lauren Oliver's writing. Even though I read Delirium when it came out, the one thing I remember vividly is her writing and how beautiful it is. It's lyrical and it honestly seems like the writing is meant to be part of the page, it belongs there (does that make sense to anyone other than myself?). Even though I wasn't too thrilled over the actual plot line until about half way, the entire book is beautifully written. It's honestly poetic and complex, yet simple at the same time. Then, after half way it deals with everything and the plot thickens and becomes really really interesting. Things start to happen, and puzzle pieces start to get put together, and there are so many darn questions you feel like you might burst.
THAT TWIST! I did not see that coming! And you know the worst bit about it, it was that one it was revealed, you could start to see it so clearly throughout the rest of the book. Things start coming back to you that you read in the first few chapters, and when it all sinks in, I was numb and in shock. How! (ok, I know how) but WHYYYYYY! *cries* Now I feel like it was the best and worst ending for this book. It makes complete and total sense, and yet, I still can't believe it is true.
Even though it's a spoiler to say, but I really like the issues that this book deals with. Sisters, Drugs, Underage things-that-you-shouldn't-be-getting-into, and all these things that could happen just makes the book just that bit more creepy.
Such a fantastic book, I enjoyed this one immensely, and cannot wait to get into more Lauren Oliver books.
This novel was received for review via Hachette Australia. This review is entirely my own, no bribery or any deals have been made to sway this review or change my personal opinion of the novel.