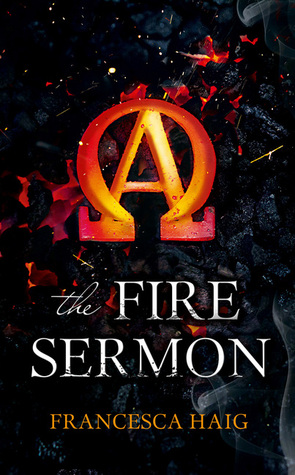 The Fire Sermon (The Fire Sermon #1)
Behind 432 Pages
Released: 23 February 2015
Genre: Science Fiction, Post Apocalyptic, Romance
Publisher: HarperVoyager Australia
Buy Me: Angus & Robertson | Booktopia | Bookworld | Book Depository | Fishpond
At the Other End:
When Zach and I were born our parents must have counted and recounted: limbs, fingers, toes. We were perfect. They would have been disbelieving: nobody dodged the split between Alpha and Omega.
Nobody.
Born as twins. Raised as enemies. One strong Alpha twin and one mutated Omega; the only thing they share is the moment of their death. The Omegas live in segregation, cast out by their families as soon as their mutation becomes clear. Forced to live apart, they are ruthlessly oppressed by their Alpha counterparts. The Alphas are the elite. Once their weaker twin has been cast aside, they're free to live in privilege and safety, their Omega twin far from their thoughts. Cass and Zach are both perfect on the outside: no missing limbs, no visible Omega mutation. But Cass has a secret: one that Zach will stop at nothing to expose. The potential to change the world lies in both their hands. One will have to defeat the other to see their vision of the future come to pass, but if they're not careful both will die in the struggle for power.
Francesca Haig is in her 30s and lives in London with her husband. She is from Tasmania. She achieved her PhD at the University of Melbourne, and is a Senior Lecturer at the University of Chester, where she is also Programme Leader in Creative Writing. Her poetry and prose has been published in many literary journals and anthologies in both Australia and England, and has won various prizes. In 2010 she was awarded a Hawthornden Fellowship. The Fire Sermon is her first novel.
This book is so unique. Yes, I'm actually saying that after I read only YA books, I can say that this book is completely unique and something that I haven't seen before. It's a breath of fresh air and a story that pulled me in from reading its blurb.
Let me get over what I didn't like. Towards the end of the book, the main character, Cass got on my nerves... A lot. She didn't grow as a character and she thought that all her ideas were the right one to go by, even without the whole seer thing. And she wouldn't listen to anyone else. It was like her word was gospel, and yet she wouldn't consider herself a big deal. Puh-lease girl. The worst was that everyone basically just treated her like that as well. She wouldn't even want to learn how to use her seer gift and they still just listened to her. The other thing was that towards the end, it felt a bit slow and started to drag a little. It was easy to put down but, at the same time, it was easy to pick it back up and continue on with the story. It was easy to remember everything so it felt like you haven't put it down at all.
Despite Cass getting on my nerves towards the end, she was a great character at the start of the book. I loved how she got to tell her story and it was an interesting way for us to get acquainted with her and Zac's childhood. It was interesting, even though nothing was actually happening. Seriously, nothing was happening and it was interesting. When we meet Kip, I had a prediction of who he really was, then I changed it at the halfway point and I ended up being right. It was still a shock at the end, even though I guessed it, but I was still shocked at the truth of it all. I'm very surprised at the ending with him. Sure, it was bound to happen, considering the circumstances, I felt like it was at the right place and it wasn't overdone (you'll understand what I mean when you read it).
I didn't like Piper. It was the stupid love triangle thing that is bound to happen in the next book. Yes, I'm already doing book 2 predictions. I really hope I'm wrong. Don't want this *cries* why does this have to happen in every book now!! Please tell me it's just the books I'm reading and not some new trend that I'm going to hate.
I absolutely loved the setting. This whole new world was captivating and I just wanted to read more and more about it. I want to know more about the Blast, more about the technology and about all the other things in this book that I can't spoil. I loved how you get to see how this world is set in TAS. There is a place called, New Hobart and that just made me realize that it was set there.
The ending had a whole lot of shocks and surprises, making you need the next book. This is a great book and it is one that I would definitely recommend. Cannot wait for the second book to come out.
This novel was received for review via HarperVoyager Australia. This review is entirely my own, no bribery or any deals have been made to sway this review or change my personal opinion of the novel.