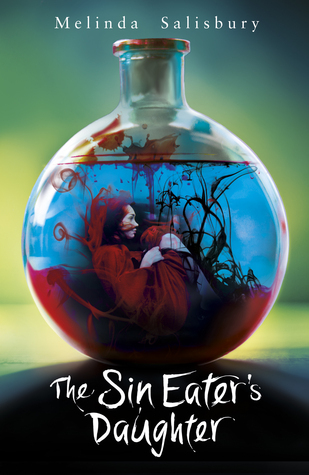 The Sin Eater's Daughter (The Sin Eater's Daughter #1)
Behind 336 Pages
Released: 1 March 2015
Genre: Fantasy, Romance
Publisher: Scholastic Australia
Buy Me: Amazon | Angus & Robertson | Booktopia | Bookworld | Book Depository | Fishpond
At the Other End:
Seventeen-year-old Twylla lives in the castle. But although she's engaged to the prince, Twylla isn't exactly a member of the court. She's the executioner.
As the Goddess embodied, Twylla instantly kills anyone she touches. Each week she's taken to the prison and forced to lay her hands on those accused of treason. No one will ever love a girl with murder in her veins. Even the prince — whose royal blood supposedly makes him immune to Twylla's fatal touch — avoids her company.
But then a new guard arrives — a boy whose easy smile belies his deadly swordsmanship. And unlike the others, he's able to look past Twylla's executioner robes and see the girl, not the Goddess. Yet Twylla's been promised to the prince and knows what happens to people who cross the queen.
However, a treasonous secret is the least of Twylla's problems. The queen has a plan to destroy her enemies, a plan that requires a stomach-churning, unthinkable sacrifice. Will Twylla do what it takes to protect her kingdom? Or will she abandon her duty in favor of a doomed love?
Melinda Salisbury lives by the sea, somewhere in the south of England. As a child she genuinely thought Roald Dahl's Matilda was her biography, in part helped by her grandfather often mistakenly calling her Matilda, and the local library having a pretty cavalier attitude to the books she borrowed. Sadly she never manifested telekinetic powers. She likes to travel, and have adventures. She also likes medieval castles, non-medieval aquariums, Richard III, and all things Scandinavian The Sin Eater's Daughter is her first novel. She can be found on Twitter, though be warned, she tweets often.
I really loved this book. It was absolutely fantastic, and I just wanted to keep on reading, I really couldn't stop. I honestly thought that this book would be like a fantasy kind of Shatter Me, but it really wasn't, except for the whole touch thing, but even then it was different. In Shatter Me, Juliette's touch is poisonous, but for Twylla, she ingests poison then touches the traitors to the Crown so they die.
Why oh why am I stuck in this rut where I start finding the main character annoying towards the end?? Just WHYYYYY!! This happened in the last book that I read as well. I really hate this. Towards the end (after chapter 18), Twylla just became really.... really... It's hard to explain. She was really stupid and naive. Not about the shocking truth at the end, but because of the things that she did and what she thought. There wasn't a love triangle for most of the book, but the ending just kind of developed and it sort of became one, without really becoming one at the same time. Sure, she figures everything out in the end, and we realize that things that happened earlier in the book that we didn't really think much of, became the centre focal point for the rest of the series.
Oh, and I really could see them getting caught by the Queen or by Marek. Seriously, how stupid can you get and every time you see the guy, you completely forget about being secretive and just want to have sex with each other.
Sorry, not sure if that was really a spoiler or not...
I really enjoyed the story. Even though, now that I think about it, didn't really consist of them doing very much, had me inhaling pages. And let me just say, that I did really like Twylla up until she got annoying. Sure, at the very end she actually developed some backbone, but up until then she was really just plodding by, trying not to be as noticeable as one can be with poisonous skin.
I absolutely cannot believe the ending. WOW! That was one shocker of a twist... twists. Yes, there was more than one twist, and one by one, I was left hanging. My jaw was dropped and I was shaking my head wondering what the hell was going on. Beware of the ending folks. I saw the minor part coming, but nothing else, and it was bloody fantastic. It ended on a massive cliffhanger, and you wonder about a lot of things in the epilogue, and the questions just keep rolling one after the other. It's like it finished at the end of one sentence!! I NEED the next book. This is not a want, I NEED it. It's a necessity. Life depends on this!
This novel was received for review via Scholastic Australia. This review is entirely my own, no bribery or any deals have been made to sway this review or change my personal opinion of the novel.