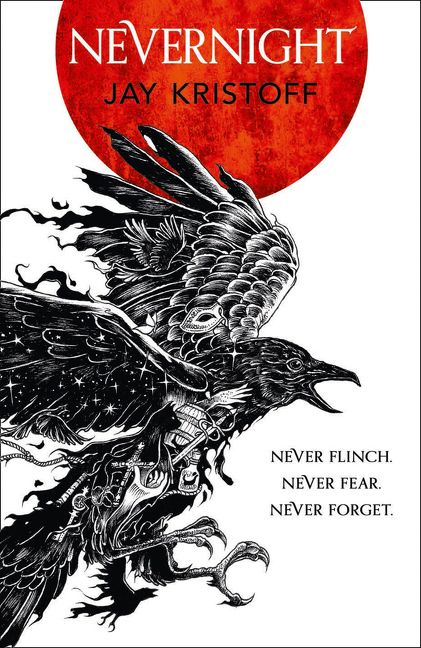 Nevernight (The Nevernight Chronicles #1)
Behind 496 Pages
Released:
11 August 2016
Genre:
Fantasy
Publisher:
Harper Voyager Australia
Pre-Order:
Amazon |
Angus and Robertson Bookworld
|
Booktopia
|
Book Depository
|
Fishpond
At the Other End:
Destined to destroy empires, Mia Covere is only ten years old when she is given her first lesson in death.
Six years later, the child raised in shadows takes her first steps towards keeping the promise she made on the day that she lost everything.
But the chance to strike against such powerful enemies will be fleeting, so if she is to have her revenge, Mia must become a weapon without equal. She must prove herself against the deadliest of friends and enemies, and survive the tutelage of murderers, liars and demons at the heart of a murder cult.
The Red Church is no Hogwarts, but Mia is no ordinary student.
The shadows love her. And they drink her fear.
Jay Kristoff is the New York Times and internationally bestselling author of THE LOTUS WAR, THE ILLUMINAE FILES and THE NEVERNIGHT CHRONICLE. He is the winner of two Aurealis Awards, an ABIA, nominee for the David Gemmell Morningstar and Legend awards, named multiple times in the Kirkus and Amazon Best Teen Books list and published in over twenty-five countries, most of which he has never visited. He is as surprised about all of this as you are. He is 6'7 and has approximately 13030 days to live. He abides in Melbourne with his secret agent kung-fu assassin wife, and the world's laziest Jack Russell.
He does not believe in happy endings.
________________________________________________________________________
Everything you could ever think or hear about how good this book is, is an understatement. Nevernight will completely blow you away and keep you clinging onto every single page. All 496 of them.
I didn't expect to love this book as much as I did. Sure, i expected to love it, but it completely blew me out of the water. The story from beginning to end is captivating and I didn't want it to end. This book has secured itself in my top books for this year, sitting right underneath A Court of Mist and Fury. I feel myself wanting every single edition of this book when it comes out and my ARC is now one of my extremely treasured. I cant get this book out of my head and I feel like I need to re-read it again. It's not a massive month long hangover like ACOMAF, but I desperately want to pick it up again. I hate that this book is so far away from releasing!! Also, I hear on the interwebs that there are going to be some special edition UK copies with coloured pages that I'm currently already drooling over (not that I know the colour or have seen a photo or anything).
I
absolutely love Mia. She's such a strong willed protagonist, and even when she does fear something, she still pulls through and gets on with it. There are so many twists and turns throughout this book and I was surprised by every single one of them. When you start this book, make sure you don't hold onto any character. Characters tend to die when they are at a school for Assassins (cause, y'know, trained killers all fighting for a few spots). What I really loved was that there was still mourning and death still affected them (I'm not going to reveal anything and you'll just have to enjoy my being ominous) as much as it could trained killers, but it was more than most books (which I liked).
I can't remember the last book I read with footnotes included, but can I just say that I absolutely loved them!! They were a little bonus that you got and it helped you understand everything about the world without a major info dump which would result in promptly forgetting everything you were told. It also added an extra dash of wit and humor to the story and it made me connect with Mia more through this. Although, because I wasn't used to footnotes when I started this book, once I finished reading a footnote that relates to a word/passage from the top of the page, usually resulted in me turning the page and trying to continue on with the story like you would when you get to the end of a page. That is, until I realized and called myself an idiot for doing it again and again hahaha. The footnotes are more constant at the start of the book, as that's where you need it the most while learning about Godsgrave. The footnotes are the perfect addition to this story and didn't overstep anything or become too constant. They appeared and disappeared right as they needed to be, and it couldn't have been done better in my opinion.
I loved the world this book is set in. It has Italian roots (so of course I connected immediately) and I loved learning everything there was to know about this world. Even though we aren't kept in Godsgrave for long, the book is constantly filled with Mia's memories as she was growing up and her time before coming to the Church. I know what you might be thinking, reading about Mia's memories before she came into the Church must have been boring. WRONG! DOUBLE WRONG! TRIPLE WRONG! Mia's memories have some of the most memorable and just pure amazing and thrilling scenes in this book. Remember when I say that not one bit of this book is boring.
NONE
I could go on and on about this book for days, but I don't want to spoil anyone so I'll be impatiently waiting until you have all read it so we can all rant and rave about how fucking amazing this book is.
For all my fellow metalheads out here in the blogosphere, here are some amazing bands that are on Jay's playlist for this book:
Can I just finish off here by saying that I had these bands playing while I was reading this book and WOW, it just added to make this book out of this world, kick arse crazy. What more can I say other than GO READ IT!
This novel was received for review via HarperVoyager Australia. This review is entirely my own, no bribery or any deals have been made to sway this review or change my personal opinion of the novel.